Can God actually do anything? One Christian was pondering that question...
Dear Rev. Graham: Is God limited in any way? Are there some things God can't do? I sometimes wonder about this, because if God is all-powerful, then why doesn't He stop all the evil things that go on in the world? -- M.N.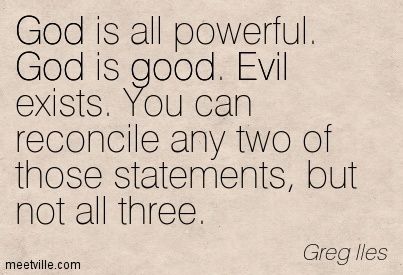 While it would be frustrating that an all-powerful god doesn't do anything about evil, it can be explained. Either God simply doesn't care, or he is a sadist. Though I think another important question is if MN realizes that the claim that God being all powerful contradicts itself.
If God is all-powerful, he should be able to create a rock so heavy that he can't lift it. But if he can't lift it. he's not all-powerful. And if he can't create said rock, he's not all-powerful once more. The very idea of omnipotence is self refuting!
Rev. Graham: God is absolutely holy and pure, and there's only one thing God can't do: He can't do anything that is against His nature. In other words, the one thing God can't do is sin.
What a load of bollocks! God lied to Adam and Eve. God killed more people than can be counted. God even sinned
when he was Jesus
. So God can, and certainly has sinned if we use the Bible as our guide. Also, remember the fact that omnipotence is self refuting? If God can't sin, he ceases to be all-powerful.
And even if he couldn't sin, there's something else he can't do. Defeat chariots of iron! (Judges 1:19)
Why, then, doesn't God do something about all the evil in the world?
As I've said before, he either doesn't care or is a sadist. But there is another possibility... That there is no God.
I've asked myself that question hundreds of times and to be honest, I don't have a full answer. Some day in heaven, we will understand, but until then, we can only trust in God's goodness, wisdom and sovereignty, even when the world seems dark and in the grip of evil.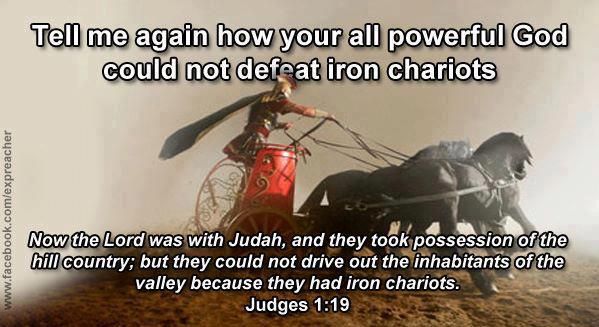 So Billy's answer is blind faith. Let's not be logical. Lets not ask the hard questions. Just trust that God has it under control and will do something about it one day. If I told you I could save you from bankruptcy, and that I even wanted to, I'm sure you'd be happy. Perhaps even overjoyed. But what if I then didn't pay off your debts? Instead I let your debt pile up higher and higher, all the while telling you not to worry, I'll make it all right eventually.
You would be right to question if I can actually do what I claim, or if I can, if I really want to. Yet Billy says you should just trust that Jesus will take care of everything in some vague 'someday'. But following that would be the same as trusting me to pay off all your bills when I've shown no signs of ever doing so. Is saying I will a good enough reason? No! Nor is the Bible saying Jesus will defeat evil a good enough reason to believe that.
It won't always be this way; some day Satan will be defeated and all evil will be destroyed. How do I know this? I know it because by His death and resurrection Jesus Christ conquered all the powers of sin and death and Hell and Satan.
Too bad for Billy that Jesus has never been shown to actually exist, there is no proof of his crucifixion or resurrection, nor that there is even a Satan to defeat.
-Brain Hulk
Please share, subscribe, comment and follow us on your favorite social networking sites!
facebook
|
google+
|
twitter