Books World
ran a story
about a new book about an atheist who became a Christian. These books are a dime a dozen, and are often either forgettable, somewhat dishonest or are complete fabrications. But which way does it look like this book will go?
Author Levi Matthew hopes to reach even one atheist who might be curious about Christianity with his new book, "An Atheist to a Christian: One Man's Journey to God"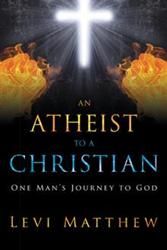 Um... Most atheists are interested in Christianity, or were Christians. So why does this seem worded as if curious atheists are a rarity?
"I lived the Atheist experience," Matthew says. "Since I was an atheist, I think this book will cause a spark in our society."
I highly doubt it, seeing how many books of this type there are. Likewise, There are also tons of Christian to atheist books. So is Levi afraid of those books causing 'counter-sparks'?
Matthew grew up in an unhappy home, all the while just wanting to be loved like other children. A friend introduced him to God at age 7, but he didn't know much about God and the Bible and he spent his teen years struggling to fit in and believe in God.
I'm sorry to hear Levi didn't have a happy childhood, but from what this preview is saying it sounds like he was an atheist by default (since all are born atheist) and because he never learned religion in his youth. In my opinion this isn't a very impressive position to be starting his conversion story from.
"I can relate to what atheists are thinking," Matthew says. "Atheists are scared that if God does exist, that they will be in Hell."
Apparently he can't relate to what we are thinking, as evidenced by that quote. I don't know one atheist that is worried about going to Hell. In order to worry about Hell, you must believe that it is a real possibility. I, and other atheists, don't. If I'm wrong and there is a God, I don't fear Hell. I'll accept whatever fate befalls me. Actually, believe it or not, the 'what if?' scenario of ending up in Heaven would be more hypothetically frightening if it exists as advertised.
-Brain Hulk
Please share, subscribe, comment and follow us on your favorite social networking sites!
facebook
|
google+
|
twitter