Full disclosure, this entry isn't about religion, politics, or even social issues. It's actually a promotion/review of what is, in my opinion, a great mobile phone company. So if you aren't interested in hearing my thoughts, or aren't interested in potentially saving money, feel free to stop reading now. But if you do like what you read, please consider signing up through my referral link so we can both save.
Sign up for Ting and Get a $25 credit.
Let's start with some back-story. I had been a mostly satisfied Verizon Wireless customer for about seven years. Call quality was always good, and the service was reliable. But there were two parts about Verizon I was far from a fan of. The first was the inconsistent customer service, especially when it came to reducing by bill. But the biggest problem was the price!
For two basic phones, 700min, unlimited messaging, and no data our bill was $74/mo. $65 of that was the plan, and the remainder was came from taxes and Verizon surcharges. For the last year I've been shopping for a Verizon replacement. Sadly I kept coming up empty. Every possible replacement was either too good to be true, and the majority of carriers simply couldn't beat what I was paying. $74 was too much, but was still the cheapest available... Would I ever find a better deal? Well, I am happy to say that I finally received my final Verizon bill for $0.00!
So who did I switch to? The answer is, probably someone you've never heard of...
Ting
. I'm sure you're wondering who Ting is, or if they are reputable. Ting is a mobile phone company that was founded in 2012 by the internet services company
Tucows
.
But can their service be any good? Yes, it can. Ting is an MVNO, so they essentially buy access to a larger carrier's network of towers. In Ting's case, that is access to the Sprint wireless network. Where I live and travel, that means coverage that is as good or better than what I had with Verizon. Go outside of Sprint's network and there's still no reason to fret since roaming jumps over tho the nation's largest wireless network (Verizon) for no additional cost.
The only downside to roaming on Verizon is that you will not be able to use data even though calls and messaging will still be active. So if you are thinking of switching to ting one of the first thing you should do is to
check the Sprint coverage
and reliability in your area.
Another awesome aspect of Ting is that there are no contracts, and no plans. Ting actually does something I've been wishing Verizon would do... They only change for what you use! There is a $6 charge per phone on the account. You then get charged for the amount or minutes, messages, and data you used that month. Each usage type is it's own line item. And each of those is broken down to Small, Medium, Large, Extra Large, and Extra Large+ 'buckets'. For example, if you don't talk on the phone you will pay $0 for minutes. Talk 1-100 min and the fee is $3. 101-500 is $9. 501-1,000 is $18. 1,001-2,100 is $35. And anything other that is $35 + 1.9¢ per additional min.
Data and messaging use the same 'bucket' billing as well. And Ting has an
interactive rates page
where you can select buckets and find out what your bill would be with Ting. Just use the usage on your bill as your guide to see if you will save money.
My result is a new bill of $29 (before taxes)! That's much better than $65. And unlike Verizon, Ting only charges extra for the taxes they are required to charge. So that translates to a final bill of $32 instead of $74. If you ask me, paying half for the same, or in this case actually more, is one hell of a deal! But be forewarned Ting won't be cheaper for everyone. Just do your homework first to make sure. My wife and I mainly text on our phones and are fairly light on calls and data (predominately use wi-fi if we need internet on our phones) . So make sure you compare your bill's stated usage to Tings rate calculator. Chances are that if you talk a lot or use a metric tonne of data, Ting may not save you money and are already on a budget plan. It's all about what you use. I've even read reviews of members that saved money on data heavy plans. So just compare apples to apples and see if you will save with Ting.
The only real bump in the road for Ting is phones. Unlike the major companies Ting does not subsidize the price of phones by locking you in for two years and changing you extra for the plan to boot. So phones are full price in Ting's store. But you do have options. Because Ting is on the Sprint network, you can bring many Sprint phones to Ting. Just check the phone on Ting's '
bring you own device
' page to see if it is eligible. I've only ever used T-Mobile and Verizon, so that wasn't an option, so I jumped on
Glyde
and purchased two pre-owned Sprint network phones for just over $60. And since I signed up for Ting through a link on a blog like this I got a $25 credit off my first bill, bringing that $29 down to $4! So my savings in the first month meant that I still saved a few bucks in my first month even with having to buy phones.
When I made the final switch I went to activate the phones before I ported our numbers from Verizon to Ting. Ting's website has great instructions to walk you through the process, but when I was setting up my billing details I unexpectedly got to try another perk of Ting's... Their great customer service. As I said I was setting up by billing details, but the website was not accepting the credit card I wanted to use for auto billing. So I called Ting's customer service number (in prime time) and after the phone rang no more than two or three times a live person answered.
The gentleman I spoke to was very personable and eager to help with my issue. He asked if I was using a proxy server, and stated that their system was flagging the activation as possible international fraud. It's at that point when we both noticed the email on my account was my .co.uk email address (I'm a bit of an Anglophile). He suggested changing it to one on my domestic emails so that the activation wouldn't ping international servers. I did just that, and the remainder of the activation without a hitch.
So now that I've had an opportunity to test drive Ting, what are my thoughts? For me the call quality and reliability has been great. One difference is that unlike Verizon, picture messages count as data rather than just another message. But considering that we almost never used picture messaging, that isn't really a negative factor for me.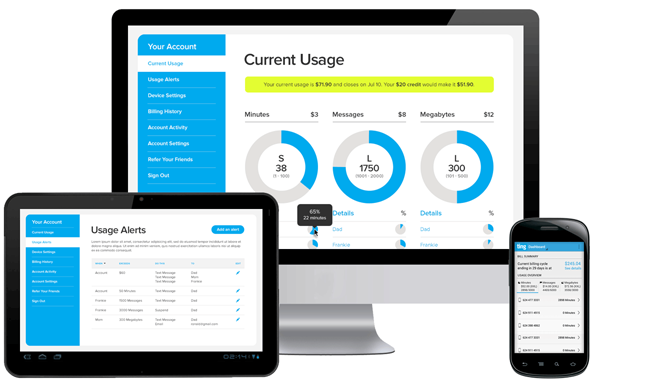 Then there is the online functionality. When you log in you will find a simple graph that shows your current usage and what you bill is so far. On your online Ting profile you can also turn different functions on or off. Don't want to get charged for data. You can turn it off. You can also turn off the aforementioned picture messaging as well as other functions.
You can also set up alerts and limits. Suppose you have a teenage child that talks non-stop, or uses data like it's going out of style. You can actually set it up so that you get an alert from Ting when the minutes, messages or data exceed a limit of your choosing. Alternatively, you can set your account to automatically turn off a function when your selected limit is reached. So Ting not only charges great rates, but offers controls to allow you to guard your account from rolling over to the next bucket if you need to stay within a specific price limit.
So all in all, I've found Ting to be great for my wife and I. We are admittedly light users, but we aren't the only type of users that can see some real savings with Ting. So I invite you to take a look and see if you can save money too. And if you do decide to switch, please consider signing up through the following link. Doing so will net you a $25 bill or phone credit, and I'll get a credit too.
And by all means, if anyone is on the fence on switching, I'd be more than happy to answer your questions.
Sign up for Ting and Get a $25 credit.
-Brain Hulk
Please share, subscribe, comment and follow us on your favorite social networking sites!
facebook
|
google+
|
twitter